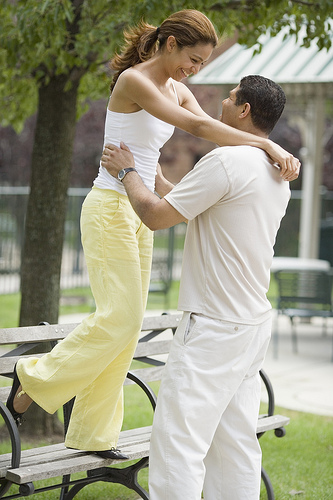 Editor's Note: This is a guest post by Brad Chaffee. Engaged Marriage is sponsoring his Manage Your Money Challenge, and I encourage you to check it out.
Every year we find ourselves celebrating our anniversary with the one we love. What is it that we are celebrating exactly? What does it mean to be married? Marriage symbolizes unity, or the coming together as one, but is that what we are really celebrating?
It's what we should be celebrating, but is it? Maybe what you are really celebrating is a social achievement that acts as a mask, covering the real reason that getting through another year is so special. Let me explain.
Before I go on let me just say that I am guilty. I am guilty of taking that day for granted sometimes. Don't get me wrong. I love my wife with every ounce of my soul and being married to her is so wonderful, BUT the truth is that I sometimes fail her. Sometimes I do not act as if we are a team, and she would probably admit she has her days as well.
74

Sim

ple Things

You Can Do to Brighten Your Spouse's Day
Join our free newsletter to get this popular checklist... plus even more tips to make your marriage thrive:
It's a part of being married. What do you do?
You remind yourself every single day how much you love your spouse, and you FIGHT to make yourself a better mate! You'll never be perfect but when it comes to your family, it should always be your goal. My point is that you should never stop trying to be extraordinary in your marriage. You should never stop trying to be truly married united.
Are you truly united with your spouse?
That question reaches into many aspects of your marriage, but I want to talk about one in particular. Did someone say money? Well what did you expect, I am the Enemy of Debt after all. And I am feeling very pumped up right now about this subject specifically, because I am starting my first ever Manage Your Money 31 Day Challenge. In order to win with money you have to manage it right?
What if I said budgeting could save your marriage?
Money is one of the leading causes for divorce, and certainly the number one reason for money fights. Money causes money fights? Go figure. 🙂
Are you truly united with your spouse on money?
Do you have a budget?
Do you feel like a team?
Are you on the same page?
Do you talk about your goals?
Does your spouse know where YOU WANT TO BE in 5 years? (I know, enough with the questions already, but I have a challenge for you at the bottom of this post about those questions, so bear with me.)
First, let's discuss how you can become better united with your spouse. I want you to practice "becoming perfect" by working on the list below. I want you to do it as a team. Spend 15 minutes a week discussing this list—make an appointment to meet about this specifically. Forget about American Idol and ESPN for 15 minutes. This is how you continue to FIGHT AS HARD AS YOU CAN to be your spouse's everything. You become extraordinary. For you, for her, and for your family's sake.

This list pertains to every aspect of your marriage, but for today, and this challenge, we are going to focus on your money relationship with your spouse. Budgeting is the best way to come together with money. Perhaps you could become united with money the right way by signing up for my Manage Your Money Challenge.
It's TOTALLY FREE, there are A LOT of prizes that will help you both become UNITED with your money, so I hope you'll consider it. (I encourage you to join but even if you don't, check out that awesome prize list.)
"THE" List WE Need To Work On
To be practiced daily
Challenge Yourself To:

Be Accountable – No placing blame anymore! If there was a mistake made and you weren't involved in it, you should have been—take responsibility.
Be Patient – It takes time. Don't think you are going to be able to agree on everything. Mastering the budget *specifically* takes time and patience. Stick it out!
Be Realistic – Do not make, or hold onto unrealistic desires. If you have debt, and no budget, you can't afford to buy a new car. Just sayin'. 😉
Be Understanding – Understand that your wants and needs will not be your spouse's wants and needs. Compromise on the things you may see as invaluable, even if you don't understand. as Dave Ramsey says, "You don't have to get it, you just have to get it."
Be Specific – Make sure that you are clear about what you want? Discuss your goals in detail. What do you want? How are you going to get it? When do you get started?
Be Honest – Managing the money as a team is about trust. Don't ruin that trust by being dishonest about your purchases. Ladies, you know you spent $30 from your grocery budget to pay for that purse. And men, you know your friend didn't pay for that fishing trip.
Be United – Be on the same page! It's hard to read the same book when you are both on different pages. Just like it's hard to win with your money when there is constant resistance slowing you down. It's in your best interest to be united.
Remember you are a team! Act like it.
I asked a lot of questions in this post. A bonus challenge of sorts, although it could be argued that you should do it first, is to take a piece of paper and write every question down. Answer the questions honestly, and discuss them at your first 15 minute meeting. Get to know each other. You don't have to cover every question the first time. Try one per week.
Maybe Dustin would be so kind as to let me do a follow-up post to see how we've done, *myself included*, in about two weeks. 😉
Good Luck!
________________________________________________
My name is Brad Chaffee from Enemy of Debt, and I absolutely love helping people become debt free. Something I love even more is helping you realize that you are the only person holding you back. I was a non-believer myself, but now I am debt free and you can be, too. Stay motivated and subscribe to Enemy of Debt today.