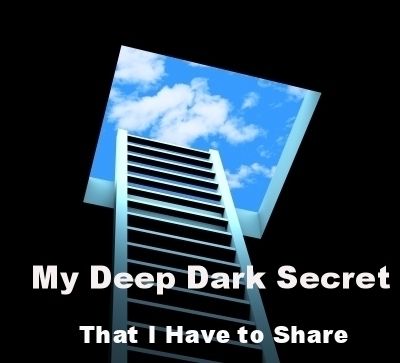 In the year and a half or so that I've been writing for EM, I feel like there's been this secret I've been keeping from you all.
And simply, it's got to go. It's not something that I particularly intended to keep from you all, but rather, I didn't quite know how to address this particular topic on this particular website. The more I thought about it, however, I recognized that the shame I was carrying regarding this thing— is tied wholly to my faith-based upbringing.
I am trusting that some folks will be able to relate, and I hope the rest will hear me out.
74

Sim

ple Things

You Can Do to Brighten Your Spouse's Day
Join our free newsletter to get this popular checklist... plus even more tips to make your marriage thrive:
I'm divorced.
And there you have it. My scarlet letter.
Actually, that's not entirely true. I am currently married to Greg and we have an amazing, loving, wonderful marriage. He is truly my partner in life, and in love. Our home and our marriage are testaments to the endless effort and attention we give to them.
But before Greg, there was someone else. We'll call him Mark. (Judas, would be a little over-dramatic, don't ya think?)
As paradoxical as it may seem, I feel like part of the reason my current marriage is so healthy and happy is due in large part to how much of an epic catastrophe #1 turned out to be.
And please don't think I'm going to spend the next 500+ words bashing Mark. The marriage was short (only 18 months). Despite that short timeline, we were able to make a ton of mistakes— very hurtful and sometimes permanent ones.
4

Things I Learned by Getting Divorced
1) Hiding your problems doesn't make them go away. It just befuddles everyone in your support network (friends, family, coworkers even) when the pieces finally come crashing down.
Raised in a family where loyalty was king, I felt very alone and isolated when things weren't seeming quite right. But everyone was so happy for me. I couldn't let them down! And I also didn't want to air my dirty laundry. When I reached out to a few select folks, I got a lot of "the first year is the hardest…" or "Well, it's a done deal now— make it work."
2) Just because you can't see bruises, doesn't make it not abusive.
Mark was not physically abusive. He never hit me. True, I can't hear as well in my left ear as in my right because he screamed into it one time— apparently loud enough to cause permanent hearing loss— but that is not the type of thing that would get me a Lifetime movie. But there were other types of abusive patterns on both our parts that I don't think anyone should tolerate.
Verbal Abuse — Name calling, Labeling, Non-constructive criticisms and other personal attacks are the most common forms.

Sometimes the abuse is more subtle, "You know a good wife would _________."
Financial Abuse — Does one person have complete and total control over the finances? Is one partner "barred" or "banned" from working— even if s/he really wants to? Does one partner verbally abuse the other for spending money? (I'm not talking about racking up $30k in credit card debt, but say— buying a new pair of jeans?)
Emotional Abuse — Withholding love or affection from your partner as "punishment", allowing others to verbally or otherwise attack your partner unfairly without seeming to care, expressing indifference towards your partner.
Sexual Abuse – Despite long held beliefs to the contrary, spousal rape is a real thing.

This wasn't something I experienced in my marriage, but I want to put it in here because it's such a widely held myth that vows some how give complete ownership over one's body do another.

That's not marriage. That's slavery.
3) Pre-Marriage Counseling is Worthless…
Got your attention, didn't I?
So hear me out— I have been through pre-marriage counseling twice now. Once through my local Catholic church's Pre-Canaa and once with a chaplain (Christian). I much preferred the Pre-Cana program to the other. I loved the topics the couples who facilitated each session brought up for the most part — I'm still slightly scarred from the word viscosity being used with respect to intercourse.
The problem is that I feel like the whole experience was framed as some necessary "check in the box". Other than a "You need to be honest." at the beginning, there really wasn't an emphasis on why that honesty was so important for this process.
And at least in my group, there was no real attention to the fact that some people who go through Pre-Cana correctly will (and should) actually come to realization that they should not get married. And then, there was nothing there to support people who would come to that decision— how to handle calling up a reception venue and inform them you're canceling. How to have the conversation with your mother or maid of honor. What to do with this person that was going to be your spouse, but now isn't even your boyfriend.
4) The miracle of Life is more precious than the Sacrament of Marriage.
After what felt like an eternity, but was actually less than 3 years between moving to Maryland and our separation— the emotional, verbal, and financial abuse had worn me down to a state where I was almost completely unrecognizable — even to myself.
I became severely depressed.
A former social butterfly and lover of people, I was isolated, withdrawn and even developed a fear of other people. I became paranoid that they were judging me— ashamed for them to see the terrible, awful, failure of a person I'd become.
Mark, although I can empathize with some of his frustration, was all too willing to reinforce these beliefs. He reminded me time and time again that this (me) was not the wife he signed up for. Friends constantly posted on Facebook how much they loved being married— whereas I couldn't understand why people would willingly do this to themselves.
An Honest Question
One day, Mark walked up to me— I was sitting curled up in an overstuffed chair (one of the few things I still miss from that time in my life) — and asked me if I was going to kill myself. Just like that. I swear I heard the tiniest bit of hope in his voice.
I looked at him, and I said what was true for me in that moment: "Why bother, I'm already dead." I was serious. I never thought of killing myself. Too much effort. Not worth the end result.
Several months later, I started experiencing odd symptoms that started out as food allergies and the progressed into what I can only describe as biological chaos. They thought I had celiac, lupus or rheumatoid arthritis— possibly M.S. After having a panic attack in the specialist's office—the doctor finally said to me, "I think this is all due to chronic stress. Whatever it is that is causing this stress— it needs to go. Because it's actually destroying your body. If you don't get rid of it, you're looking at a future of autoimmune disease.
And that was my permission slip— my sign, if you will — to get out.
Choosing Life
I have tears in my eyes as I write this because I remember thinking, "I know God loves marriage… but He loves me too." And so within a few weeks— the separation papers were signed.
I know I wasn't perfect in my marriage and that my lack of ownership for my thoughts, feelings and beliefs at the beginning of our relationship allowed certain circumstances to fester— whereas now, I doubt I would stick around long enough from the beginning.
I have experienced judgement and harsh criticism from fellow Catholics and other Believers. But the truth is — I know God created me for some Purpose— and being sick, depressed and isolated was not it. I believe that the current health and the current life, and the current relationships that I enjoy with both God and my husband, Greg, are directly related to the fact that divorce is part of my history.
So while I don't want to sounds like I'm advocating for divorce, I do want readers to understand that getting divorced is not some horrible death sentence in every single case.
Sound Off — Can you connect? Does this relate? I look forward to hearing your thoughts in the comments.