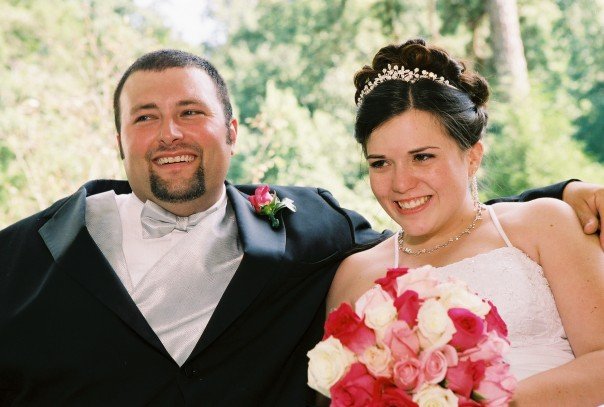 Editor's Note: This is a guest post by Brad Chaffee from Enemy of Debt.
Are you married? Do you have an income? If so, then chances are you have experienced an occasional, or NOT so occasional money fight.
I can tell you from experience that they are never fun, and often end with slamming doors and pots and pans embedded in the dry wall. 😉 Since managing money, or the lack of it, is one of the leading causes for divorce, I want to help you deal with the problem at hand.
Don't get me wrong, eliminating money fights alone won't save a broken marriage, but it will help you address some major marital issues. Money fights happen for many reasons, but let me share with you some of the reasons my wife and I used to fight about money.
Poor Communication – This is likely the most destructive problem in many marriages. We had very poor communication skills. Have you ever tried dealing with a fight when you cannot even communicate?
Overdraft Fees – Not keeping track of our money caused many fights over hundreds of dollars in fees. "It was your fault!" "No it was yours!" (constant bickering—later we realized it was both our fault.)
No Emergency Fund – Without one of these you are FORCED to rely on debt to get you through life. That is absolutely no way to live.
Lack of Management – We pointed fingers, placed blame, and fought like crazy, but none of that ever solved a thing.
Collection Calls/Letters – Talk about stress! When you are living paycheck to paycheck—as we were, this will provoke the meanest of fights.
Unpaid Bills – Need I say more? When you are having trouble paying your bills—what do you expect? Evictions, foreclosures, shut-off utilities, and car repossessions are scary things to deal with.
Unexpected Emergencies – My wife and I went $2,000 in debt one time for a major plumbing problem. Ever wanted to be a fly on the wall? You would have heard some words back then.
Growing Debt – Since you said your wedding vows, ever wonder why "till debt do us part" was not used to replace "till death do us part"? In America, the first one usually comes before the second one. Maxed out credit cards were our biggest problem.
Out of Control Spending – We used to go to Super Wal-Mart and spend $200 a weekend on only God knows what. We never really figured out where it all went either. Certainly not to our net worth.
Yep, we used to fight all the time about money. So much in fact, there was a brief period in time when we were out-of-touch and distant from each other. We experienced resentment, anger, frustration, fear, anxiety, insecurity, and embarrassment. No wonder one of the biggest reasons given for the cause of divorce is related to financial issues.
What Did We Do?
We gained control of our money before it ruined us completely! That's right, we changed the way we handled our money. Sounds too easy doesn't it?
I wouldn't go that far because it was no picnic, and it took us some time to get to where we are today. Oh we still argue, after all, we're human, but believe me when I say our marriage has improved dramatically since we changed our money habits.
Here's a list of things we did to face our problems head on.
Started communicating about our goals and desires – What we wanted, where we wanted to be, and how we wanted to get there, became questions of importance. (the start of something truly wonderful!)
Started our Total Money Makeover – This is BY FAR, the very best thing we have EVER started. You should go out right now and borrow this book from your local library. Dave Ramsey helped US change our life!
Stopped borrowing money…

period

! – We decided to never borrow another dime for the rest of our lives, so we would be able to enjoy the freedom we deserve. We have no debt right now except for our house and haven't borrowed a dime since January of 2008. People around us insisted that it was impossible to live without credit cards, car loans, and student loans. No credit cards, two nice paid-for-with-cash cars, and attending college student loan free—so who was wrong? Hard? Yes, but WAY WORTH IT!
Realized that we were a team – Instead of putting your financial matters on one person to manage, you should try working together as a team. You cannot argue and place blame about something that was mutually agreed upon.
Started a real budget—as a team – A budget is essential to taking real control over your money. Telling every dollar where to go before you even get paid, and sticking to it, gives you a better understanding of where you are headed—making any financial decisions much easier to manage.
Eliminated wasteful spending – Doing a budget and having a plan helps you WANT TO cut back on non-essentials, especially when you are saving money and paying my enemy off—debt be gone. Motivation baby!
Saved an Emergency Fund – We saved $2,000 in 2 months to start our Total Money Makeover. We have had MANY emergencies since, and not once have we had to borrow money to get us through difficult times.
We became Debt Free – It took us 18 months to pay off our debt and we have enjoyed the benefits of doing so very much. Now we have options, and options are great! Our mortgage is paid through January to enable my wife to be able to take 3 months off after the baby, and I get to take off an entire month with no pay to enjoy my beautiful family. Options ROCK!
Did All Of Our Problems Just Vanish Overnight?
Not exactly. Even after all this, we still had our issues concerning money, and it took time and some learning on both our parts to iron them out. Most of the problems were directly related to the budgeting process, which takes extreme amounts of patience to work.
Needless to say, we have really improved in the communication department and the honest truth is—we did so because managing our money was MOST of our problem. We just didn't know it until we started communicating better.
In conclusion, I strongly believe that if you want to improve your marriage, one of the main things you must address is your money. It forces communication, and if it doesn't, your problem is much deeper than just money.
Something else you should consider is becoming debt free. When your income can be used as a tool to build wealth and security, instead of being used to pay off mountains of debt—life is a lot less stressful, but I digress. I'll save that one for a future guest post.
Enjoy your marriage so you can enjoy life. Do not let the things you CAN control come between you and your spouse. You can do this money thing!
______________________________________
Brad Chaffee is the author of Enemy of Debt, and a regular contributor at the Self Reliance Exchange. Brad has become debt free by paying off $26,076.75 in just 20 months!! Learn more about Brad and his mission to rid the world of debt, one post at a time, by subscribing here.