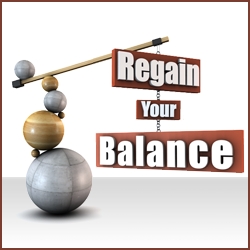 If you're like me, you know what it's like to struggle to find the right balance of time, energy and interest in your crazy-busy life. We have so much going on that weeks can pass in a blur while we attend to all the seemingly urgent tasks that hit us from all directions each day.
Meanwhile, our real priorities don't get the attention they need, our creative side never gets a chance to shine through and we're left feeling overwhelmed and unfulfilled despite pouring our energy into doing the best we can. Sound familiar? 🙂
Regain Your Balance
Well, it is truly my pleasure to introduce you to an awesome resource that can help you. In Regain Your Balance, Ali Hale offers real, practical advice to help you find the right balance and achieve all that you want for your life.
To borrow Ali's words, her e-book is for you if:
74

Sim

ple Things

You Can Do to Brighten Your Spouse's Day
Join our free newsletter to get this popular checklist... plus even more tips to make your marriage thrive:
* You can't understand where your time and money goes. It feels like there should be plenty of both, but there isn't …

* You shelved your painting or writing or music a few years ago, and never went back to it …

* You keep trying to make improvements, but somehow life keeps on reverting back to the same busy state.
Does this sound like you? I know it sounded really familiar to me!
I encourage you to head over to the full-page description of Regain Your Balance for the run-down on the full contents and awesome bonuses being included right now as the e-book is launched. However, to give you a quick taste for what's included in this 78-page e-book, here's the list of chapters:
Chapter 1: Taming Time
Chapter 2: Cultivating Creativity
Chapter 3: Finding Focus
Chapter 4: Energizing Environment
Chapter 5: Real Recharging
Chapter 6: Managing Money
Also, if you'd like a taste for what the book's like, Ali has a link to download the Introduction and Chapter One for free at her site!
My Full Endorsement (and a little contribution by yours truly)
As the creator of Engaged Marriage, I have the opportunity to review a lot of products and books. In fact, I'm sent things to review on probably a weekly basis with the hopes that I'll feature them on the site.
Well, you don't see many of those because I'm very selective in the products and services that I share with you. I know anything featured here reflects on me and our community, so I only share resources that I can fully support because I'm confident they'll really help you.
Regain Your Balance has my strong endorsement. It has really helped me make better use of my time and feel more fulfilled in my life. It's not a theoretical book, it's a book of action and practical advice you can actually use. And I love that!
After I reviewed it in draft form, I was given the opportunity to suggest changes to Ali, which she graciously included. One of my criticisms was that the e-book was light on information to those with young children (since we often struggle so much to find balance). Ali doesn't have kids yet (but she IS getting married this fall!), so she let me write up some advice for young families, and it's included in Chapter One!
Regain Your Balance is also the first product that I've ever agreed to endorse right on the landing page for the site. When you click over, you'll see my smiling mug there sharing my thoughts on the mix of topics included in the book…don't hold that against the book, please. 🙂
Don't Take My Word For It
I don't expect you to hear that I liked (or loved) the e-book and then go buy your own copy based solely on that. But I would encourage you to head over to read the full description and see if it's something that could help you.
By the way, Ali has included a lifetime full money-back guarantee if you do buy it and decide it wasn't all you hoped for. You just let her know, and she sends your money right back to you. She's cool like that.
Please check out Regain Your Balance and leave your thoughts in the comments below. But don't be too harsh on my section! 😉