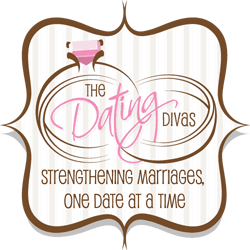 It's not often that I recommend marriage resources created by others, and I don't think I've ever recommended something created by a Diva…
But that was before I met The Dating Divas! 🙂
When I saw The Divas top the list this year as the Top Marriage Blog, it really got my attention.
74

Sim

ple Things

You Can Do to Brighten Your Spouse's Day
Join our free newsletter to get this popular checklist... plus even more tips to make your marriage thrive:
And once I spent some time exploring their site and then read this mission statement, I knew these ladies had something truly special to share:
We are wives, mothers, sisters, and friends who strive to enrich marriages everywhere. We want to celebrate the gift of marriage while inspiring others to do the same. It is our goal to provide creative, inexpensive, and innovative dating ideas that will bring joy, fun, and excitement back into the relationship.

We encourage all married men and women to take a conscious and proactive approach to investing in their spouse. By putting our spouses first, we are taken back to the simple magic of being head over heels in love again. We desire to help make lasting marriages, which in return will create everlasting families.
To put it simply, I LOVE what this group of creative women are doing to help busy couples enjoy the most in their marriage and family life!
Let The Dating Divas Help You!
After checking out a few of their weekly date ideas and other tips, I was really pleased to see that the Divas have a really cool e-book available that shares their collective top secrets to a happy and healthy marriage. I decided to check it out, and I have to see that I am really impressed with The A to Z Guide: 26 Ways in 26 Days to a Happier, Healthier Marriage!
If you are familiar with my own book, 15-Minute Marriage Makeover, you'll notice some similarities in format and approach. However, the content is different, and of course the Divas are presenting their advice from the perspective of four women, which really creates a unique guide that I think all wives should read.
As good as the A to Z Guide is, I was very pleasantly surprised to find out that the Divas recently released a new book that's really in their wheelhouse – The Ultimate Date Night Book
The Ultimate Date Night Book is not only incredibly useful, but it's beautiful and very well organized – they really make it easy to enjoy a one-of-kind date night. If you take a look at all of the amazing date ideas that are already on their site, you'll understand why this resource is so exciting.
Pick Up One (or BOTH) of the Diva's E-books
If you're looking for some unique and special ideas to romance your spouse, then you'll definitely want to check out these books.
Just click on either image below to head over and check out the details, including free samples!
How great would it be to have a regular, fun date night be part of your marriage? Pick up these resources and you'll be well on your way!